Activists look at Manila Auxiliary Bishop Broderick Pabillo as one of them. On more than one occasion, the bishop has shown a willingness to speak his mind on various social issues.
Bishop Pabillo's appointment as administrator of the archdiocese, therefore, has been interpreted as a message from the Church signaling its support for activists who are currently under fire.
The bishop's appointment on Feb. 10 came as Cardinal Luis Antonio Tagle left for Rome to assume his post as prefect of the Congregation for the Evangelization of Peoples.
"The Archdiocese of Manila is in good hands," said constitutional law expert Antonio La Viña, one of the founders of a legal alliance seeking justice for victims of extrajudicial killings.
Bishop Pabillo's appointment is no guarantee that he will take over the former See of Cardinal Tagle. But the bishop can move church leaders to a more robust defense of human rights and civil liberties.
"Although he will serve only in the interim, I think the Vatican [is sending] a message here," said Antonio Montalvan II, an anthropologist from Mindanao.
New spike in killings
The Philippine capital is reeling from a new raft of killings related to the government's crackdown on suspected drug users and dealers.
Gunmen killed a southern Philippine mayor in the capital's prime tourist district on Feb. 10.
In late January, rights groups recorded at least half a dozen killings by masked men in the national capital region, including a child who was hit by a stray bullet.
At least four other killings have occurred early in February.
---
---
Early in the presidency of Rodrigo Duterte, Bishop Pabillo was already speaking out for "the thousands who had been "deeply traumatized" or further impoverished by police anti-narcotics operations.
Named by the president's son as a member of an "Oust-Duterte Movement" in 2017, the bishop took pride in the label of "activist bishop", while dismissing criticism from his detractors.
"It is what I am supposed to be, to be a follower of Christ, speaking not for myself, but for the poor and voiceless," Bishop Pabillo said.
Common touch
"He always has his heart for the poor, there is no doubt about it," says Marita Wasan, former president of the Council of the Laity of the Philippines.
Wasan has marched with the bishop for causes ranging from protests against divorce proposals and reproductive health polices to standing for a beleaguered chief justice.
She describes Pabillo as "a very humble man" who strides with confidence on the country's mean streets.
Raymund Villanueva, a photojournalist, said the bishop's "easy interaction" with the poor is not limited to his former parish in Manila's Tondo district.
---
---
A cleric's life brings plenty of lessons in people skills, but Bishop Pabillo can literally disappear into a huddle of workers, looking like any union veteran.
He can speak like one too, especially while onstage during protest rallies, fulminating against injustices. The bishop also has a good union leader's skill in negotiating, keeping an even voice and smile.
Those traits stem from the 64-year-old bishop's roots in the provinces of Negros Occidental, Pampanga, and Laguna, where huge masses of impoverished workers till the estates of the country's richest families.
Bishop Pabillo came into priesthood at the height of protests against the late dictator Ferdinand Marcos.
He was ordained priest of the Salesians of St. John Bosco congregation, known in the country for its technical schools for boys, on Dec. 8, 1982.
Pope Benedict XVI appointed him auxiliary bishop of Manila on May 24, 2006. Cardinal Gaudencio Rosales consecrated him bishop on Aug. 19, 2006.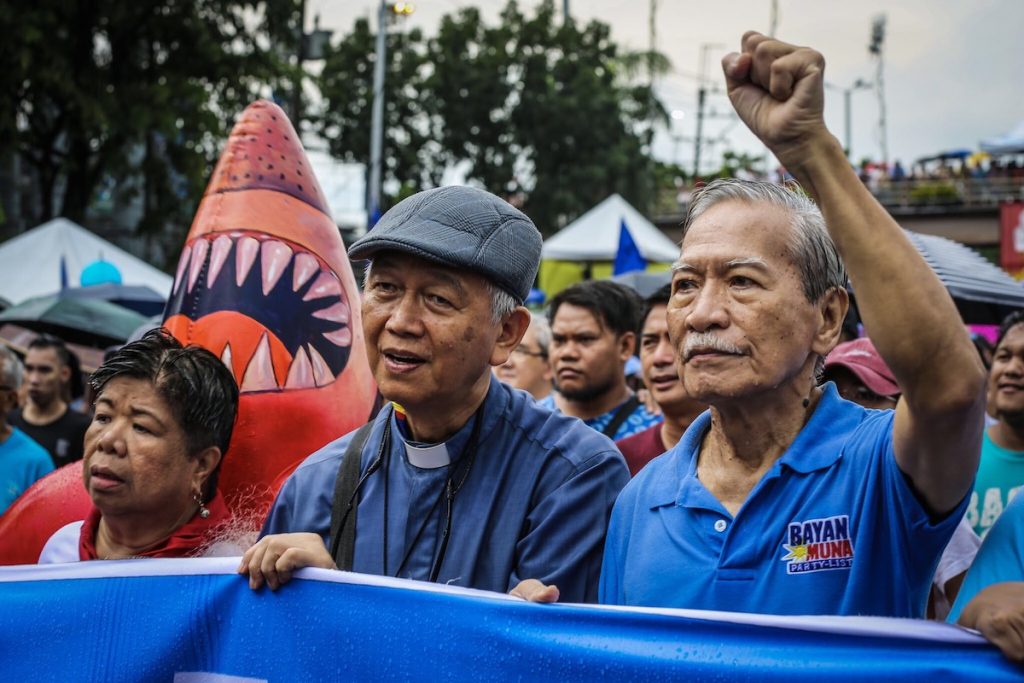 Color blind
Wasan admires other bishops who speak out for human rights, but there's another trait that draws her to Bishop Pabillo.
"He never looks at colors — red, yellow, white, or blue. He gives everyone his attention and wisdom," said Wasan.
Jack Alvarez of the Komunidad Kay Kristo, an evangelical, reformed local church with ministries for the poor, sees Pabillo as a key player in the ecumenical movement.
Alvarez called the bishop "a superb expositor and theologian", who often accepts inter-faith symposia on the nexus of spirituality and social action.
Bishop Pabillo has thrown his support behind labor movements, working with other faiths to press for better work standards and an end to contractual schemes.
He has a strong network of churches and religious organizations and he can use the pulpit to call attention to rights abuses in the provinces, where most bishops are more timid — or friendly — toward the Duterte administration.
---
---
His "color blind" ways will also help Catholics and other religious groups endure a ramp up in attacks.
At least two priests — Jesuit Father Albert Alejo and Divine Word priest Falaviano Villanueva — face charges of sedition because of their criticism of the government.
Authorities have frozen several bank accounts of the Rural Missionaries of the Philippines, a Catholic church group that helps poor farmers, on suspicions of "terrorism financing."
In Mindanao, a Protestant sanctuary is under siege by militiamen out to drag refugees back to their mountain villages, where the military has been conscripting tribal men into "force multiplier" units.
Bishop Pabillo urged Catholics to pray for a smooth transition once Pope Francis appoints Cardinal Tagle's permanent replacement.
But while the country waits, he'll forge on with his prophetic reminders.
Inday Espina-Varona is editor and opinion writer for various publications in Manila. The views expressed in this article are the opinions of the author and do not necessarily reflect the editorial stance of LiCAS.news.