A Catholic nun has committed herself to "rebuilding lives, rekindling hope, and restoring dignity" of people deprived of liberty (PDL) in the Philippine capital.
Through the Church's prison ministry, Sister Zenaida Cabrera, coordinator of a Caritas program to assist detainees, helps PDLs get back to mainstream society and their families.
In an interview with Radio Veritas Asia, she said the pastoral ministry in prisons should be seen from the perspective that everything alive is God's creation.
The nun belongs to the Congregation of the Servants of the Holy Eucharist or SHE, which traces its roots to a cell group created following a parish renewal experience at the Immaculate Conception Parish in the city of Pasig.
"Every prisoner … hopes that she or he will not be forgotten as God's child," said Sister Cabrera. She has been involved in the prison ministry since she made her first vows in her congregation in 1997.
She shared that her prison ministry started when the community of nuns she started moved to Manila's Tondo district.
"It was a blessing that Cardinal Jaime Sin, then archbishop of Manila, provided us with a nicer place to dwell," recalled the nun.
Her congregation's involvement in the ministry began when they got in touch with Caritas Manila, the social action arm of the Archdiocese of Manila, which urged the sisters to make the jail apostolate their main charism or focus of their pastoral ministry.
"Caritas Manila was looking for a group that could frequently visit the prisoners," said Sister Cabrera. "We had just moved in, and Caritas asked if we might include the mission as part of our apostolate," she added.
For over 25 years, the nun worked with other members of her congregation and volunteers in several detention centers in the cities of Quezon and Muntinlupa.
She stressed that the mission is more than just putting on programs and doing a lot of work.
"Those who don't believe that inmates' lives are just as important as everyone else's can't do prison ministry for a long time," she said.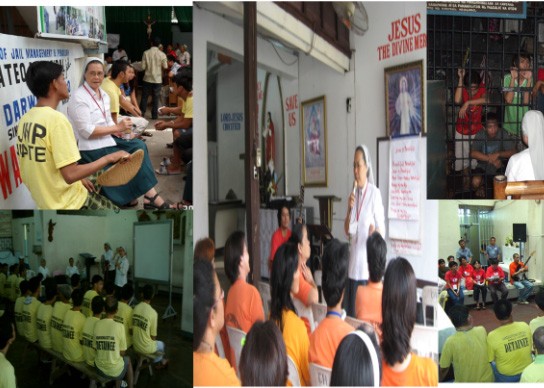 Being part of the prison ministry requires involvement in the lives of others, said Sister Cabrera, adding that it is her "conviction."
"To be involved in prison ministry implies acting in the ministry in people's lives with compassion," she said.
"3 R's"—Restorative Justice Ministry program that was introduced for the prisoners
The congregation's prison ministry's initiatives are known as the "3 Rs"—restore, rehabilitate, and reintegrate.
The first one is anchored in the Restorative Justice Ministry—which she considers the most holistic approach to incarcerated convicts.
Caritas RJ, or Restorative Justice Ministry, was added to the primary goal of her congregation.
The program's "restoration" phase aims to teach prisoners about human rights and their importance as children of God.
"We want to teach them about what it means to be a person and how to forgive and how to renew their lives for the better with the help of others," she said.
The members of the congregation are committed to building a disciplined community among the prisoners and their families so that there can be better reintegration.
"It helps convicts feel the transformative presence of Christ, no matter their pasts, religious beliefs, or cultural backgrounds," said Cabrera.
The nun emphasized that this vision was mirrored in the goal of restorative justice volunteers: to pave the path for the reintegration of both victims and criminals and enhance family ties.
"During the rehabilitation phase, prisoners participate in religious activities and meet with counselors to help them grow spiritually. This helps shape and develop their spirituality, behavior, and skills," she said.
According to her, reintegration is achieved through paralegal assistance and family life education.
However, the nun noted that it was difficult to gain support from individuals, such as the families of the convicts, at least in some cases.
"We have occasionally encountered families that do not want any further family members to return home," she said. "To restore justice in their lives, we must first establish trust and focus on optimism."
The nun stated, "Every prisoner who despises his or her circumstances has faith in God that they will not be forgotten as God's children."
It is the nun's hope that someday prisoners will have their and "return to themselves" and that they recognize that they are "human, a reflection of God who loves everyone."
"We highly cherish the dignity of every individual," she said. "Even if I am familiar with the lives of criminals who have committed wrongdoing, I believe in God's love, which can transform their lives."
"A person cannot engage in this ministry if one is not in love with love or inspired by God," added Sister Cabrera.
She and her colleagues have always conveyed to those in prison that they are "all God's children."
"This is the starting point of their hope, change, and grace," she said.
The Catholic Bishops' Conference of the Philippines has coordinated prison ministry in the country through its Prison Pastoral Care since 1975.
As a socio-pastoral apostolate of the Church, Catholic churches, diocesan teams, and religious congregations provide holistic rehabilitation services to prisoners.
On October 30, the Philippines will mark the 35th "Prison Awareness Week" under the theme "Towards a listening, healing, loving, and correctional community."
As of June 30 this year, the estimated number of detainees and sentenced individuals in Philippine prisons stood at about 150,000, most of whom are housed in jails in the capital.