Airstrikes by Myanmar's military hit another Catholic church in the Diocese of Loikaw in Myanmar's Karenni State on January 12, witnesses told LiCAS.news.
"Another church in Loikaw has been hit by airstrike," said a Dominican priest who works in the diocese.
"This is the seventh church that has been hit and damaged by artillery or airstrike in Karenni state," added the priest who asked not to be named for security reasons.
---
Meanwhile, the administrator of Loikaw diocese, Father Celso Ba Shwe, posted on his social media account: "We are no longer capable of forgiving."
"We, therefore, pray, Lord, forgive them their sins, for they do not know what they are doing," added the priest.
In a separate message, Jesuit priest Father Wilbert Mireh said that Catholic Church is "under attack by the Burmese military."
"If the damages were only one or two, the attacks could have been accidental, but the numbers would prove that the attacks were deliberate," said the priest.
"Most importantly, the ones who are suffering because of the brutal persecution are the people of God," said the Jesuit.
Father Wilbert said the military offensives have displaced most people in the predominantly Catholic Kayah State.
The United Nations Office for the Coordination of Humanitarian Affairs said that in southeast Myanmar, at least 654 houses and other civilian properties — including churches and schools — have been destroyed or burnt down since May.
It said that as of January 3, some 162,000 people remained displaced from Kayin and Kayah states since fleeing their homes.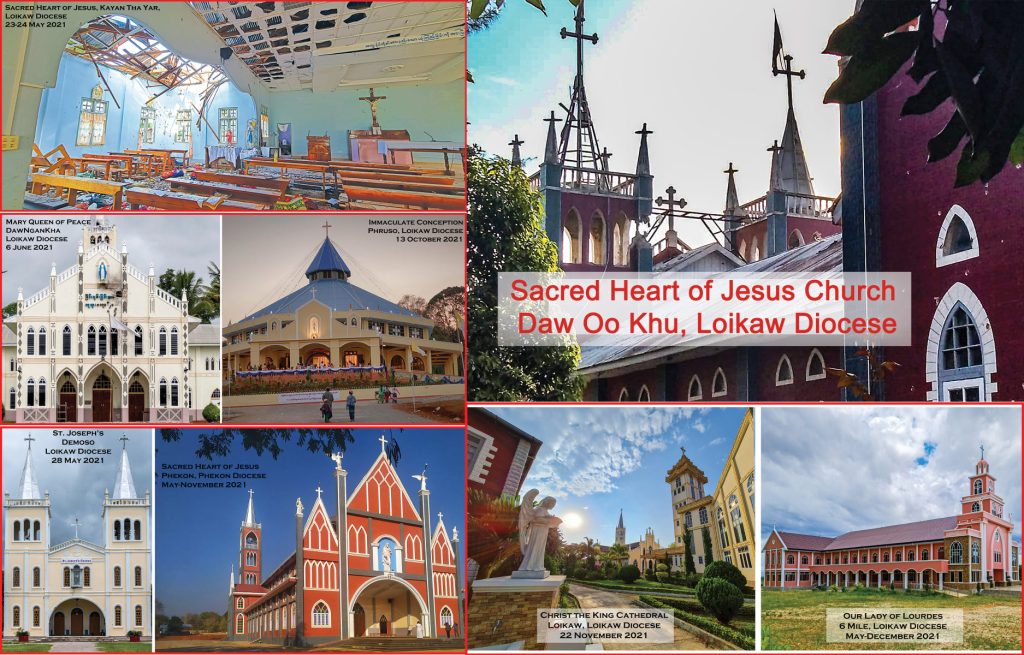 More people displaced
More than 20,000 people who fled fighting between the military and anti-junta forces in two townships in Myanmar's Kayin state remain displaced this week, said a report from Radio Free Asia.
The report quoted Burmese Aid for Refugees spokesman Ye Min told saying that the refugees originated from the townships of Myawaddy and Kawkareik.
"Currently, there are tens of thousands of people who have fled the fighting in Myawaddy township due to the intensity of the Lay Kay Kaw clashes [beginning on Dec. 15]," he said.
"There are thousands more in Kawkareik township and in Mutraw district in KNU [controlled] territory — the refugees have not yet been able to return home," added Ye Min.
He said that based on the location of the villages and the population, the number of refugees could be "more than 20,000."
Most refugees have fled to makeshift camps along the banks of the Thaung Yin (Moei) River and into neighboring Thailand, with more crossing the border every day.
Aid workers told RFA on Thursday that the Thai government had sheltered "more than 3,000" refugees from Myanmar at a cattle ranch and nearby buildings in Mae Sot's Mae Kot Kin village in Tak province.
Ye Min said the number of Myanmar refugees in Thailand fluctuates between 3,000 and 5,000 a day, as some are moving back to Myanmar or Thailand depending on fighting situations.
Reports said the military junta has already arrested more than 8,560 civilians and killed 1,463 since Feb. 1, 2021.
Those displaced by the recent fighting join more than 500,000 refugees from decades of conflict between the military and ethnic armed groups who were already counted as displaced at the end of 2020, according to the Internal Displacement Monitoring Center, a Norwegian NGO. – with a report from Radio Free Asia