Church leaders in the Philippines have renewed their offer to turn churches and other church facilities into vaccination sites to augment the government's efforts to inoculate more people against the coronavirus disease.
"We are always open to partnering with the government when it's for the common good," said Bishop Pablo Virgilio David of Kalookan, vice president of the Catholic Bishops' Conference of the Philippines.
In an earlier pronouncement, the Department of Health's National Immunization Technical Advisory Group has called for the use of church facilities as "mega vaccination sites."
---
---
The country's Catholic bishops have offered the Church's facilities for as vaccination hubs as early as January this year.
Several parishes in the capital have already hosted the vaccination of several hundreds of elderly people and those with comorbidities in recent weeks.
"We have already been a long-time partner of the Caloocan [local government unit] in many endeavors, including the fight against the pandemic and the vaccination program," said Bishop David.
The government has been ramping up its inoculation efforts with the expected delivery of more COVID-19 vaccines later this year.
Father Jerome Secillano, executive secretary of the Permanent Committee on Public Affairs of the bishops' conference, said holding the vaccination inside church facilities may boost public confidence.
"The [bishops' conference] has earlier offered church facilities for vaccination," said the priest.
"It's up to the [local government units] to tell bishops or parish priests how it can be done. There ought to be coordination between them to iron out details for such a plan," said Father Secillano.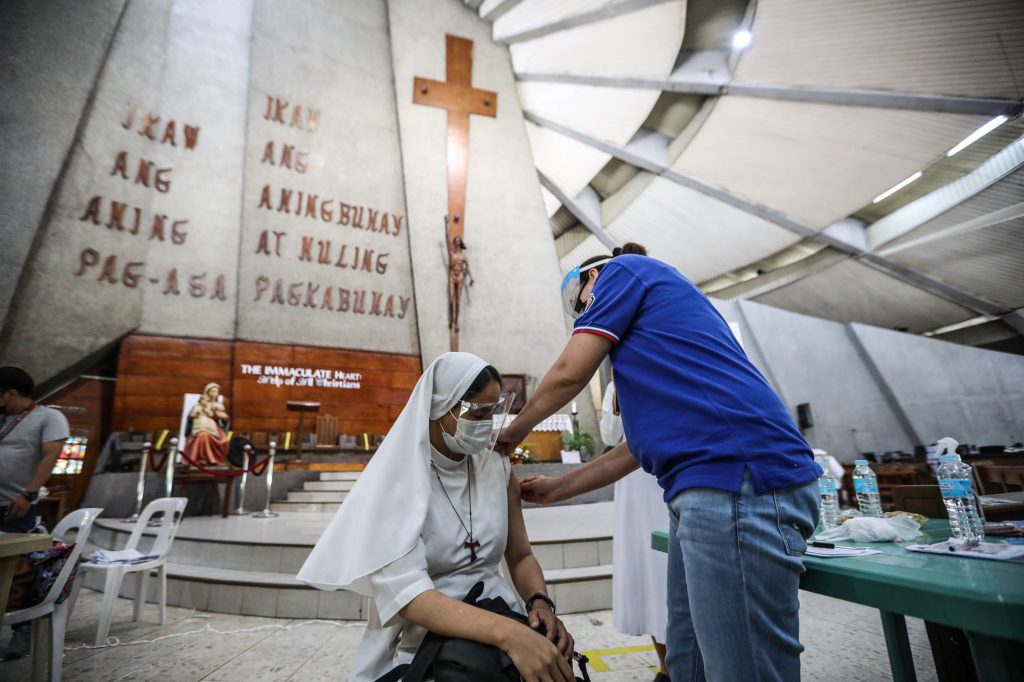 The country has so far administered 3.46 million first doses of the COVID-19 vaccine, while 1,029,061 people have completed their COVID-19 shots.
The Philippine government on Wednesday announced that it is lowering its initial goal of inoculating 70 percent of the population or 70 million Filipinos by year-end to achieve herd immunity.
It will be brought down to 50 percent to 60 percent, focusing on providing residents in the national capital with immediate protection.
The Philippines on Thursday confirmed 6,483 more COVID-19 infections, pushing the country's total recorded cases to over 1.2 million.
The day's fresh cases brought the country's running tally to 1,200,430, of which 48,109 or four percent are considered active.
COVID-related deaths increased to 20,379 with 210 new fatalities, the highest announced in nearly seven weeks.
Most of the additional deaths, or 139, were initially tagged as recovered but were reclassified after the DOH's final validation, said the Health department.
There were 4,335 additional recoveries, bringing the total number of patients who recuperated from the disease to 1,131,942.
The total recoveries accounts for 94.3 percent of the country's cumulative total.
Out of 47,869 individuals who underwent testing for COVID-19 on Tuesday, 12.5 percent were found positive for the virus.