Catholic priests in Myanmar appealed to military authorities for an end to attacks on churches where civilians seek refuge from the ongoing conflict in the country.
"We have already told [the soldiers] that in our churches there are no armed groups, only people seeking refuge [from the fighting]," a Catholic priest said in an AsiaNews report.
"They know that we host the elderly, children, and women," said the priest who was involved in an earlier dialogue with soldiers. He asked not to be named for reason of security.
---
---
Reports from the communities said that soldiers have also taken over churches and used these as camps.
On June 13, a group of soldiers raided a Catholic convent in the Archdiocese of Mandalay and interrogated priests over alleged links with the country's resistance movement.
The priests were taken to a police station where they were questioned for almost 24 hours about their background and their work.
The raid on the church came days after several Catholic churches were targeted with artillery shells. At least eight churches have been reported to be under attack.
On June 16, soldiers arrested Catholic priest Michael Aung Ling after a raid in the church compound in Kanpetlet town in the Diocese of Hakha.
The priest was suspected of providing supplies and food to the resistance movement. Father Ling was released after 11 hours in detention.
Myanmar has been in turmoil since the military overthrew Aung San Suu Kyi's government, citing its refusal to address what it said was fraud in a November election.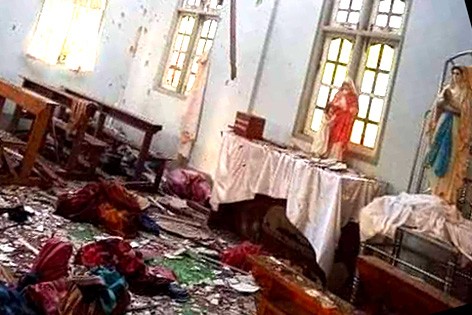 Cardinal Charles Maung Bo of Yangon, president of the Catholic bishops' Conference in Myanmar, has earlier issued a statement appealing to the military not to attack places of worship.
The military regime, however, said the churches are being used by "terrorists" as hiding places.
Early this week, security forces set ablaze a village in central Myanmar after clashing with resistance fighters, leaving at least two elderly people burned to death.
State television, however, said the blaze at Kin Ma, a village of about 800 people in the Magway Region, was caused by "terrorists."
The villagers, who spoke on condition of anonymity, said that security forces set the fires after confronting opponents of the junta and that at least two people were killed.
Human rights groups have accused Myanmar's forces of burning hundreds of villages in 2017 during an offensive that drove about 700,000 minority Rohingya Muslims to flee to Bangladesh.
Security forces have denied setting fires and in some cases have blamed Rohingya for doing so.
Western condemnation of the junta has grown over the military's use of force against its opponents.
The Assistance Association for Political Prisoners, a human rights group, has said security forces have killed more than 860 civilians. The military has said the figure is lower.