Christians and Muslims in Jakarta, Indonesia, are working together to provide assistance to communities most affected by the coronavirus pandemic.
"Helping people from the house of prayer is a good start to establish dialogue of life and work," said Jesuit priest Christian Triyudo Prastowo of the Assumption Cathedral Church.
In a report posted on Radio Veritas Asia, the priest lauded the "collaboration among religions in responding to common problems and needs."
---
---
He cited "the zeal of the human essence" that should be "continued in simple support and teamwork."
Muslim and Christian leaders and volunteers started joint efforts to distribute relief goods to affected families in the capital at the Istiqlal Mosque on Friday, August 13.
The Istiqlal Mosque is the largest mosque in Southeast Asia and the sixth-largest in the world in terms of capacity.
"What we saw today … is a very vivid symbol of Indonesia," said Nasaruddin Umar, High Imam of the Mosque.
"No matter how difficult the path we are currently facing, this is the inner wealth that the nation's children have in sharing," he said in the RVA report.
"We must not be alone in managing the people and the nation," said the religious leader.
"There must be collaboration with each other because it is where unity and blessing come from," he said.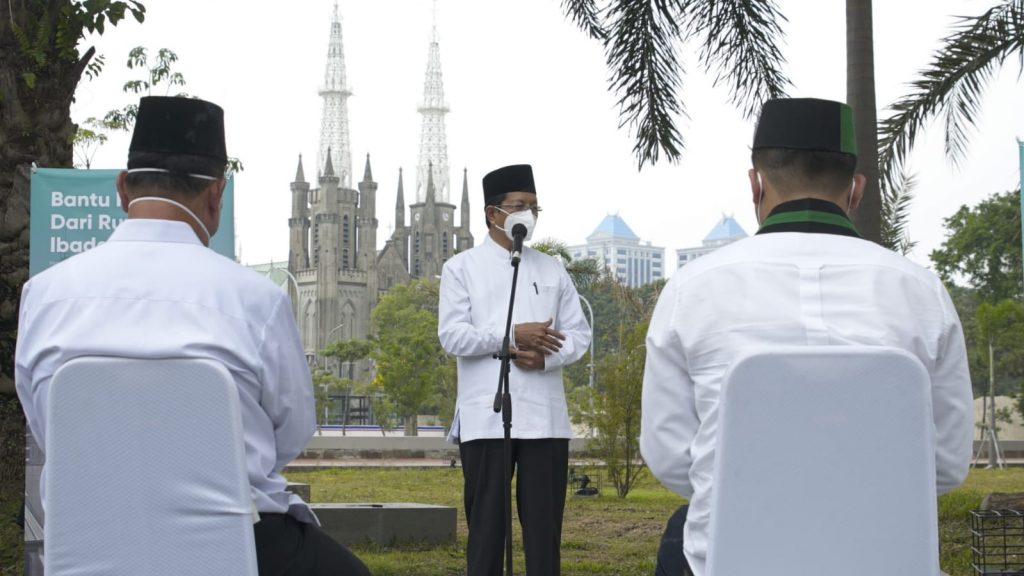 Father Agustinus Heri Wibowo, executive secretary of the Commission on Inter-religious and Trust Relations of the Indonesian Bishops' Conference, welcomed the initiative.
He said the houses of worship are also the houses of humanity "because the intimate relationship with God is manifested in the efforts of humanity."
"If all religious people work together, they will meet at one point, namely humanity itself. To quote the words of Pope Francis: 'The church becomes a hospital on the battlefield,' to heal the sick and wounded," said the priest.
"This moment shows the universality and brotherhood of interfaith that is realized harmoniously in Indonesia," said the priest.
The Archdiocese of Jakarta, meanwhile, continued to convert church-run schools into quarantine centers.
Religious of the Good Shepherd nun Alfonsa Sudaryati said the initiative was aimed at helping thousands of people in the area who have nowhere to go for self-quarantine. – Report from Emiliana Saptaningsih of Radio Veritas Asia