At least four people were reportedly killed after bombs hit a Catholic church in a village in Myanmar's Kayah State on Sunday, May 23.
Burmese army soldiers reportedly attacked the village of Kayan Tharyar, seven kilometers from Loikaw, capital of Kayah State, with artillery shells, hitting the church.
At least four people, including two women, were reported killed inside the church while scores were reported wounded.
---
---
Government troops attacked the village believing that civilian resistance fighters were hiding there.
The Sacred Heart cathedral in Phekon was also reported damaged by the shelling, according to the Italian news agency Fides.
The report said Jesuit missionaries in Myanmar condemned the "heinous crimes in the strongest possible way" and demanded that "the Burmese military be held accountable for what happened."
"The military must immediately stop the attacks against civilians and churches," the report quoted the unnamed Jesuits.
The report said "bombs have destroyed the buildings, reducing them to rubble, with images that recall a clear scene of war."
The State of Kayah has the highest percentage of Christians in the country. Church presence in the region began in the late 1800s with the arrival of the first missionaries from the Pontifical Institute for Foreign Missions.
There are an estimated 90,000 Kayah Catholics, almost a third of the 355,000 inhabitants of the state.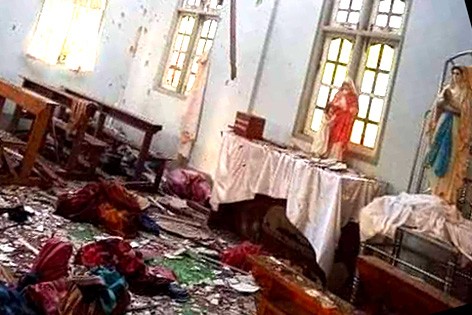 Myanmar has been in chaos since the army took power on February 1, with daily protests, marches and strikes nationwide against the military junta.
Soldiers have reportedly responded with lethal force, killing more than 800 people, according to the Assistance Association for Political Prisoners activist group.
The military is fighting on a growing number of fronts, against established ethnic minority armies, and rag-tag local militias formed in the past few weeks, many armed with rudimentary rifles and home-made weapons.
Fighting has intensified in eastern Myanmar in recent days near the border of Southern Shan and Kayah states, with thousands fleeing their homes and dozens of security forces and local fighters killed, according to residents and media reports.
Local people and activists estimated at least 10,000 people had fled their homes in Kayah, bordering Thailand, after the latest violence.