South Korea will be hosting this year's global summit of Church media on various platforms, including metaverse, organizers announced this week.
The SIGNIS World Congress (SWC) 2022 will gather Catholic journalists and communicators from all over the world onsite in Seoul and online from August 15-18.
SIGNIS is a Catholic lay ecclesial movement for professionals in the communication media, including press, radio, television, cinema, video, media education, internet, and new technology.
---
Organizers announced that preparations are in progress for the gathering, especially on the metaverse platform, after SIGNIS Korea signed a deal with GG56 Korea, a blockchain-based big data company, in December.
South Korea's former prime minister Han Seung-soo, who heads the organizing committee of the media summit, signed the memorandum of agreement on behalf of SIGNIS Korea.
Metaverse is a network of 3D virtual worlds focused on social connection. In science fiction, it is often described as a hypothetical iteration of the Internet as a single, universal virtual world that is facilitated by the use of virtual and augmented reality headsets.
"We welcome both those who can attend in person and those participating online," said Francis Kim Seung-wal, chairperson of the SIGNIS Korea Executive Committee.
He told LiCAS News that they have been working on the metaverse platform, which is expected to be done by the end of June.
"We will create three zones, namely the Congress zone, the Peace zone, and the Holy Site zone," he said.
In the Congress zone, a congress hall will be set up and will include breakout rooms and a prayer room. "A participant can join the congress as an avatar with the capability to vote and meet in the metaverse space," said Kim.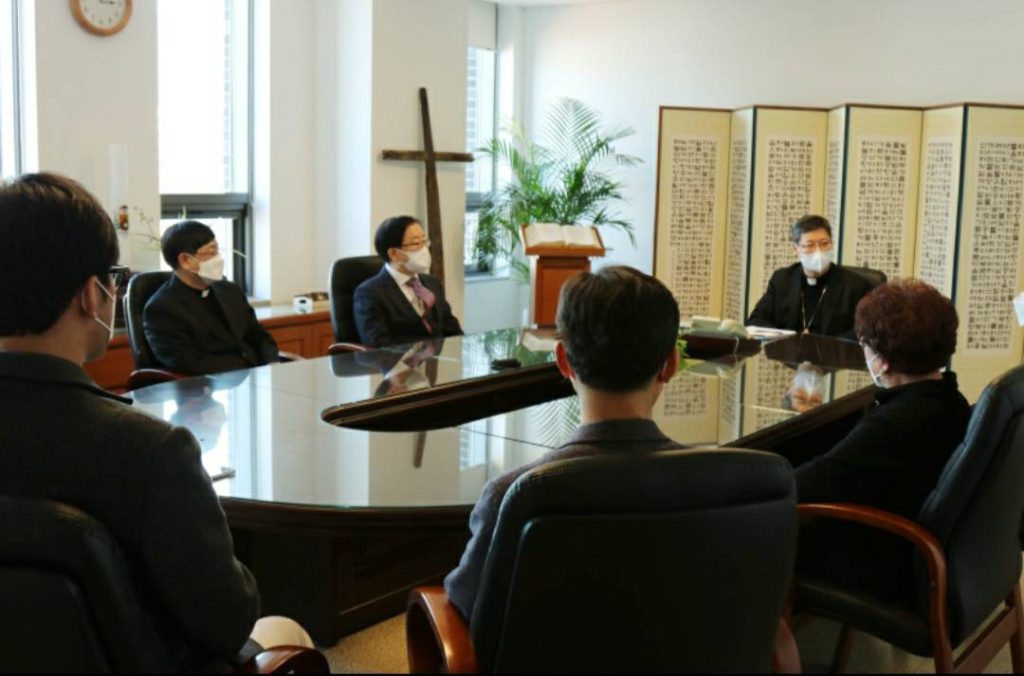 "We will also prepare a special sector for promoting each country's Catholic Church and Catholic media," he said, adding that it is going to be like the exhibitions of media in previous world gatherings.
In the Peace zone, donation rooms for Catholic charity organizations, such as Caritas and Asian Communication Network will be set up.
In the Holy Site zone, a participant can make a pilgrimage in Korean martyr shrines, which will be displayed in 3D, and guided by an avatar.
In an earlier interview, Seung-soo said that Korea will provide an opportunity for Catholics all over the world to come together using metaverse and showcase Korea's technological prowess.
The former prime minister assured Archbishop Peter Chung Soon-Taick of Seoul that the organizers will try to seek ways to proclaim the Good News amid the pandemic through the virtual space.
Archbishop Jung said the archdiocese, especially its youth ministry, has also tried to seek ways to evangelize the youth on metaverse.
The SIGNIS World Congress is scheduled to be held at the Jesuit's Sogang University in Seoul with the theme "Peace in the Digital World."
Taking into consideration the travel restrictions caused by the pandemic, the organizing committee decided to hold a "hybrid" congress.