The Missionary Oblates of Mary Immaculate has started a yearlong celebration of its 50th year in Bangladesh with a simple gathering of the faithful in Lokhipur, a parish in Moulvibazar district, in the north-eastern region of the country, on July 29.
Father Ajit Victor Costa, OMI, delegation superior, expressed gratitude for the 50 years of "missionary and evangelizing presence and services" of the congregation in the predominantly Muslim country.
The celebration was attended by Bishop Gervas Rozario of Rajshahi, Bishop Shorot Francis Gomes of Sylhet, priests, religious and the laity from different villages in the Diocese of Sylhet.
---
"This 50 years of dedicated pastoral service and achievement is not for their name and fame, but for the glory of the Lord and for the people," commented Sister Ralentia.
The religious sister urged the faithful "to offer their children for the evangelization of the poor and the needy like Oblates."
Mintu Rema, a lay leader, said the missionaries have been "very close" to the people through the years and "are always ready to give us full pastoral support."
"We pray for our missionaries who toiled with sweat and blood in this part of the world," said Holy Cross Father Leonard Rozario. "May their hard pastoral work bring fruits through the sons of the soil," said the priest.
The Oblates missionaries arrived in Bangladesh on July 29, 1973, following an "agreement" between the former archbishop of Dhaka, Bishop Theotonius Amal Ganguly, and the provincial superior of the congregation, Father Lucian Schmitt, OMI, and Father Dalston Forbes, OMI, who was then head of the congregation in Asia.
One of the initial tasks of the missionaries was to teach at the major seminary in Bonani and to train the local clergy, combined with pastoral care for English-speaking members in local parishes.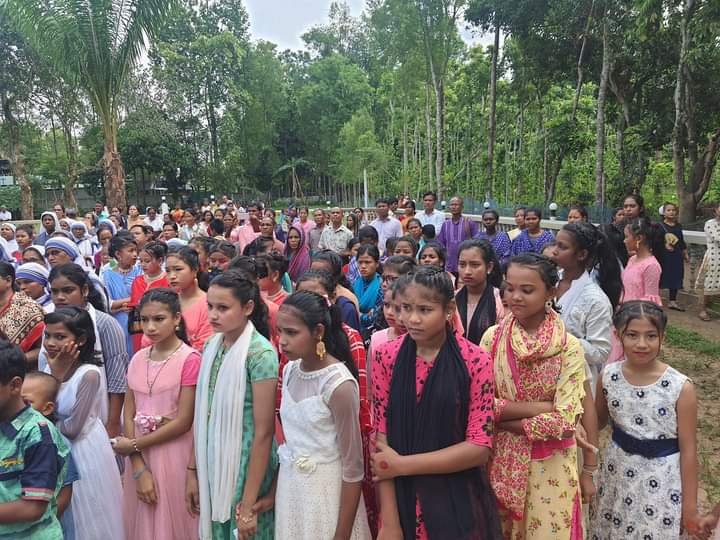 The congregation has already one native bishop, Archbishop Bejoy N. D'Cruze of Dhaka, who is the president of the Catholic Bishops' Conference of Bangladesh.
Father Costa said that in the beginning, the main challenge for the missionaries was adapting to the country. Today, it is "finding funds to continue the pastoral work," said the priest.
Almost 50 years after the start of its mission in the country, Oblates priests work in seven parishes scattered in three different dioceses, run two high schools, about 40 elementary schools, and two seminaries.
"Most parishes are located in remote areas, where tribal people live," said Father Costa noted. "This is where the needs are greatest," he said.
"Through prayer and teaching, we transform their lives. We are living witnesses and heralds of the Gospel," said the priest. – with a report from AsiaNews