The Episcopal Commission on Migrants and Itinerant people of the Philippine Catholic bishops' conference called for help for Filipinos in Sri Lanka who want to come home.
"For their safety and their protection we support the repatriation of our Filipino nationals in Sri Lanka," said Bishop Ruperto Santos, vice chairman of the commission in an interview over Radio Veritas 846 in Manila.
"In this difficult and uncertain times, we appeal to our Filipinos to heed the call of government officials for cooperation and collaboration," said the prelate, adding that "It is for their own good and well-being."
---
Bishop Santos also reminded Filipinos in the troubled country to pray for peace in Sri Lanka, "that fostering strength and unity they will surpass that crisis and attain the way to progress and prosperity."
Sri Lankan security forces demolished the main anti-government protest camp in the capital, evicting activists in a nighttime assault that raised international concern.
Troops and police Special Task Force commandos wielding batons and armed with automatic assault rifles swooped in on protesters blocking the Presidential Secretariat.
Hundreds of soldiers removed the demonstrators' barricades outside the sea-front building, while the last remaining protesters on the premises — some still on the steps — were evicted.
The operation came hours before the country's new president, Ranil Wickremesinghe, swore in a new prime minister to try to manage the financial crisis that has crippled the economy and triggered months of protests.
Wickremesinghe himself was elected by legislators on Wednesday to replace Gotabaya Rajapaksa, who fled to Singapore and resigned after demonstrators chased him from his palace.
The remaining protesters — far fewer than the thousands who overran several government buildings earlier this month — have been demanding Wickremesinghe also quit, accusing him of protecting the Rajapaksa clan who have dominated politics for much of the last two decades.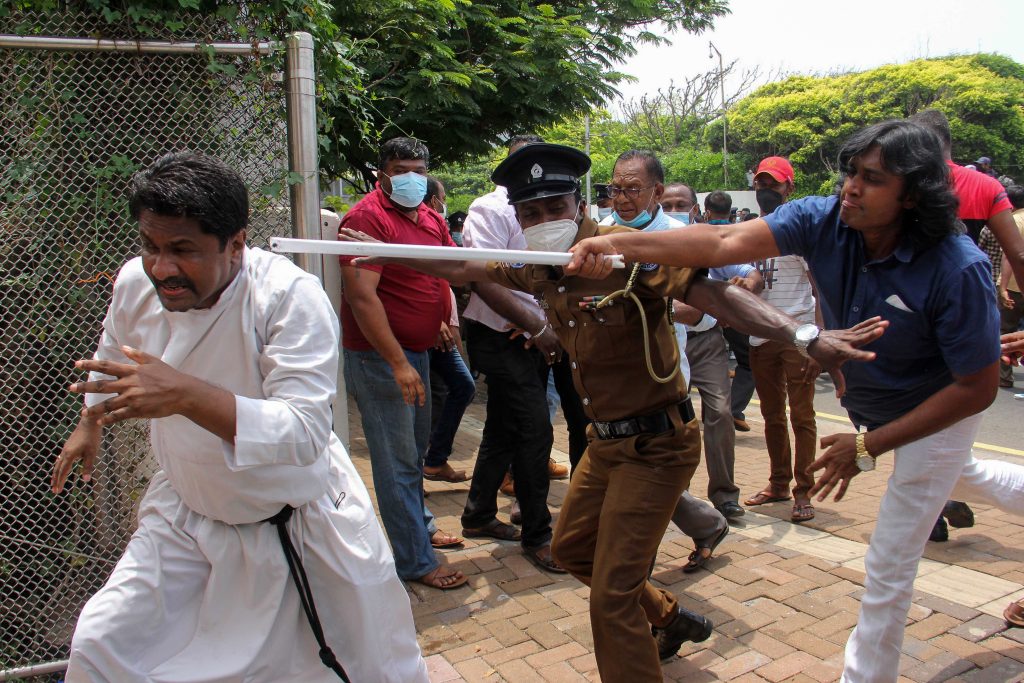 By morning, police commandos and soldiers armed with automatic assault rifles ringed the complex and the main roads leading to the area remained cordoned off.
Hundreds of activists demonstrated at a nearby designated protest site against the authorities' actions, demanding Wickremesinghe resign and dissolve parliament to allow for fresh elections.
"Don't attack peaceful protesters, instead listen to us," said student Dimmithu, 26.
The activists insisted they would continue their struggle, and Basantha Samarasinghe, 45, a businessman and trade union leader, said: "The peoples' wish is system change, and parliament should be dissolved. It has no public mandate."
In a statement, police said: "Police and security forces acted to clear protesters occupying the Presidential Secretariat, the main gate and the surroundings.
"Nine people were arrested. Two of them were injured." – with a report from AFP