Millions of Filipinos took to the streets on Jan. 19 to honor the Child Jesus, known as the Santo Niño in this predominantly Catholic land.
It is an age-old tradition that was brought to the Philippines by Augustinian friars in the 16th century.
The missionaries brought in three images of the Child Jesus: The Santo Niño de Cebu in 1565; the Santo Niño de Tondo (Manila) in 1572; and the Santo Niño de Arevalo (Iloilo City) in 1581.
The growing devotion fostered the creation of the Augustinian Province of Santo Niño de Cebu, where the first missionaries arrived.
"We were the first missionaries designated for such a mission here," said Augustinian priest Jonas Mejares of Cebu.
---
---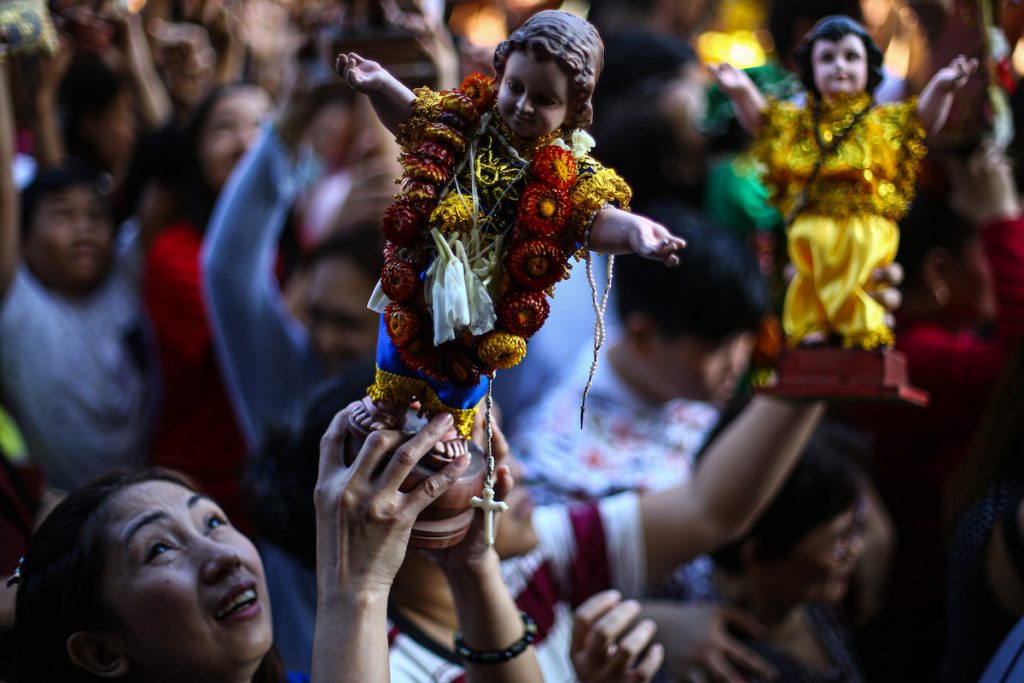 Other missions were sent out to major Spanish settlements in modern Manila's Tondo district and the district of Arevalo in Iloilo City.
The areas each have their own histories regarding the "miraculous image", which are reflected in their respective festivals.
Cebu has its "Sinulog" festival every January, Iloilo hosts its "Dinagyang" Festival, and Tondo has a religious procession attended by thousands.
Witnesses of faith
Roque Bolo, from Cebu, said his devotion to the Child Jesus gave him hope to face the challenges in his life.
He was working for a clothing factory when he decided to strike out on his own and make images of Santo Niño.
"I already had a family but the pay wasn't enough," he said.
"I entrusted my business to the Santo Niño," added Bolo, who has now been making images of the Child Jesus for 16 years.
He produces thousands of images made of wood and fiberglass every year.
---
---
Bolo also has a 21-year-old son who has special needs, making the success of his business critical to the well-being of his family.
"Without the grace of the (Santo) Niño, it would have been very hard for me and my family to survive," he said.
Roy Erwin Tizon, a fashion designer and makeup artist, also credited the Child Jesus for his success. He said his best work is always dedicated to the Santo Nino.
He calls his image of the Child Jesus "Sangkay", meaning friend.
Sangkay, whose names derives from the fact that it was an actual gift from a friend, has become the most popular and photographed image at Sinulog, as it has been used by various dance companies and festival queens.
"I always see to it that I make a new vestment (for the Santo Nino) every year," said Tizon.
He said he always makes sure not to create a "simple vestment", but a "grand and very intricate" one.
"I always make sure that the designs I make are excellent and thus a form of offering to the little Child Jesus," he said.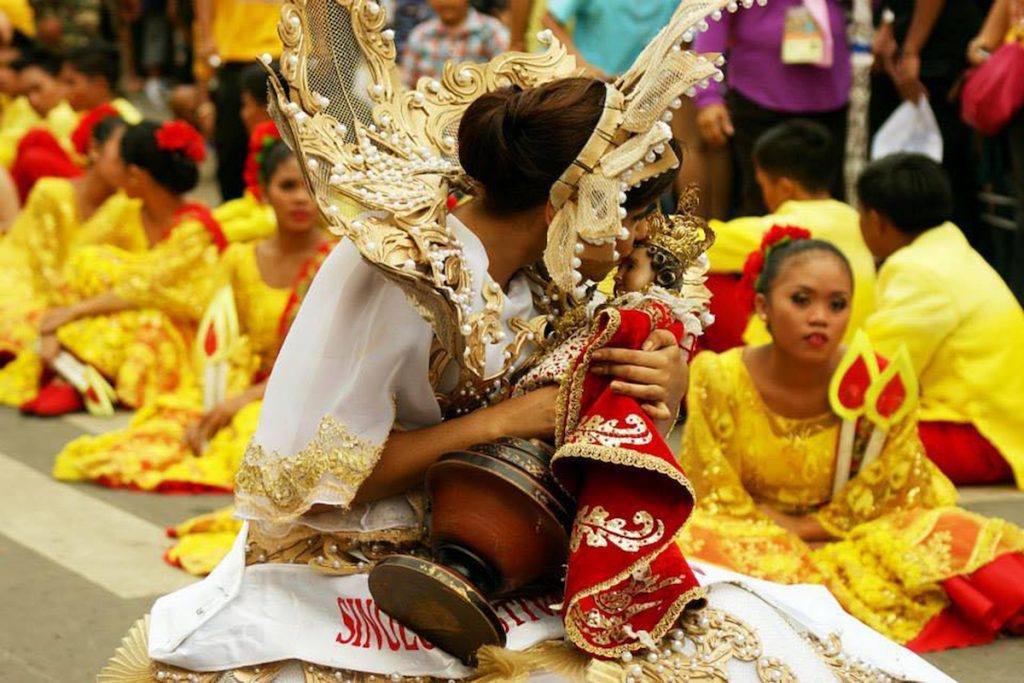 Journey of an image
The image of the Santo Nino was supposedly a baptismal gift from Magellan to the local chief's wife when the Portuguese explorer arrived in Cebu.
Rajah Humabon led 800 subjects in what became the first mass baptism in the archipelago.
Humabon earned a new name, Carlos, after the grandfather of the reigning Spanish monarch, King Philip II. His wife was baptized Juana, after King Philip's grandmother, Queen Juana of Castille.
When Magellan died after fighting Humabon's rival, Lapu-Lapu, his men returned to Spain and the natives returned to their old beliefs.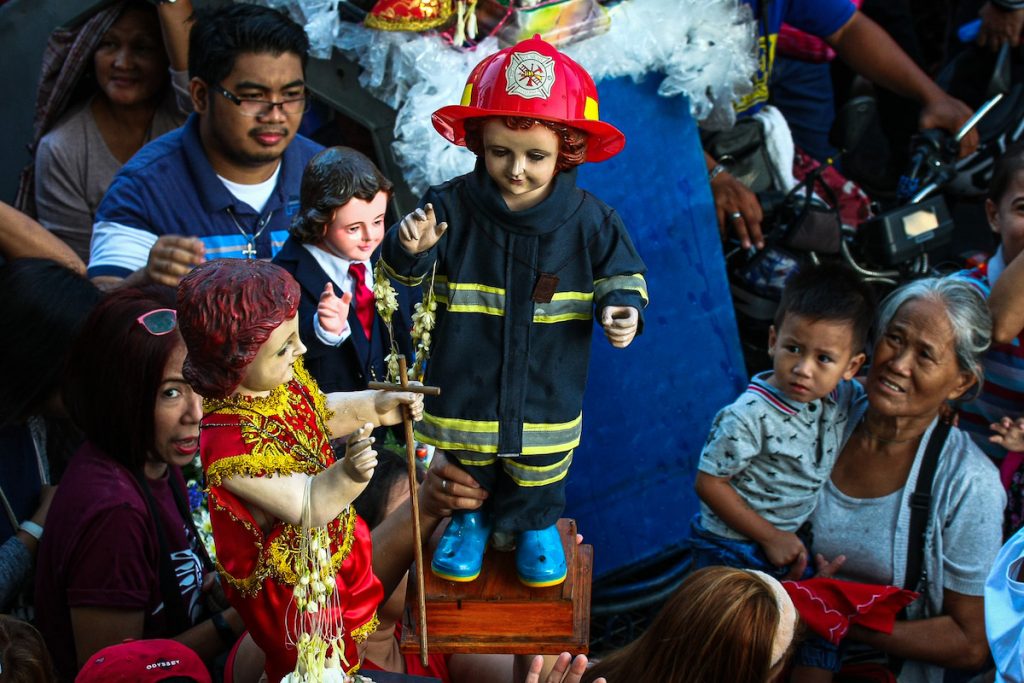 When Miguel Lopez de Legazpi arrived in the Philippines in 1565, he reportedly saw the image underneath the rubble. Legazpi ordered that a shrine be built for the Santo Niño.
From then on, devotion to the Santo Niño grew, as did subsequent festivals to honor him.
Father Mejares said it is "easier" for Filipinos to pray to the Santo Niño because of its "humble, childlike, and reassuring representation."
"We are very fond of children," he said. "Besides, we have a natural need to address someone we can see (and) touch rather than someone we have never seen before," he said.
The priest said devotion to the Child Jesus is a powerful tool that represents Jesus as a child-king to the "misguided" generation, helping them "discover real and authentic faith."
"The real challenge for us is how to demonstrate in our concrete everyday life that we recognize Jesus as our king, that we want him to reign in us, and what we can do to build up his kingdom among us," said Father Mejares.
---
---